Another day, another food truck pops up on our NYC streets. The newest? A fashion-related taco truck. Fashion and...tacos? What? In an awesomely fun move, the Gap launched their very own taco truck, Pico de Gap (cute).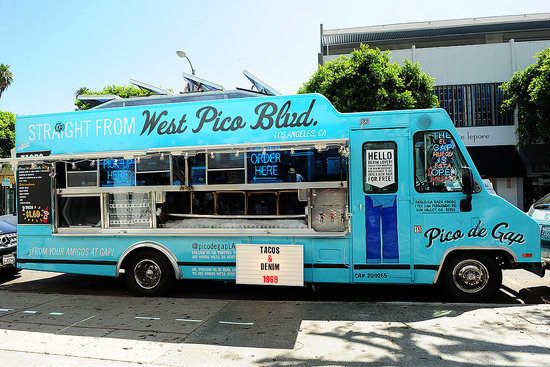 An effort to promote Gap's newest additions to its
1969 denim line
,
Pico de Gap
will be offering a bunch of yummy deals and steals, including the following:
1st
: Visitors can enjoy
two tacos and a drink for $1.69
. Yup, you read that right...$1.69!
2nd
: Any proof of a
same-day denim purchase
guarantees your food is
free
3rd
: Any order at the Pico de Gap truck
includes a $20 voucher
towards the new Fall 1969 collection
Besides the amazing deals, the menu for Pico de Gap was created by
celebrity chef
and author
Katie Lee
, so you know it'll be good. Here is a tentative schedule for the Pico de Gap truck:
Aug. 17: movies in Riverside Park at 8:30 p.m.
Aug. 20 and 21: Afro Punk festival (VIP area) all day
Aug. 25: The Art of Brooklyn festival from 6 p.m. to 11 p.m.
Sept. 10: Westside County Fair from 1 p.m. to 6 p.m.
For more specific details on exact locations, check out the
truck's official Twitter.
Happy Eating!
-- Samantha Chin, NYCRD Contributor
NEVER MISS A THING!
Click here to sign up for NYC Recession Diary Emails!
Follow Us on Twitter
Fan Us on Facebook