Whenever I'm craving a coffee and a snack, and the only place around is Starbucks, I often find myself at the counter for about five minutes trying to decide what to order without spending my extra subway fare money. It's a serious issue...should I pay $4 for coffee and not have a snack or just get a $5 granola bar and no coffee...or get nothing and starve?!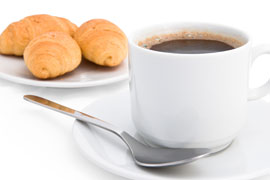 Luckily, I spotted an amazing deal on
8coupons
for
coffee or tea AND a baked good
at
Cuppa Cuppa
for
$3
. I had to reread it twice just to make sure my eyes weren't deceiving me. They were not!
The coupon can be found
here
and you can either print it out or text it to your phone (the green way to go). This deal ends on
8/29
so try and get in as many $3 mini-meals while you can until then.
Cuppa Cuppa
75 East 4th Street
New York
-- Samantha Chin, NYCRD Contributor
NEVER MISS A THING!
Click here to sign up for NYC Recession Diary emails!
Follow me on Twitter:
www.twitter.com/ricebird